The fourth edition of the European Fire Safety Week
---
The aim of the event – hosted by the European Fire Safety Alliance over four days, 14-18 November – was to discuss challenges facing Europe in the field of fire safety. This year the focus was on how to place EU citizens safety at the heart of the energy transition, without forgetting about other important problems defined in the European Fire Safety Action Plan.
Abstract from the Europacable presentation on
"Enhancing Compliance: The industry perspective".
---
To enhance compliance, Europacable recommends:
Look for compliant cables: Use only CPR compliant cables in European buildings & Market to avoid increases in fire risks.

Check for required performance: low performance cables not in line with the required fire safety level may have fatal consequences for people in case of a fire.
Active role in supporting market surveillance: Contribute to stronger, stringent market surveillance to enforce full compliance with CPR requirements and reduce fire risks.
Europacable study on CPR scope in Europe
EuroFSA presentation on enforcing fire safety requirements
Final conclusions
---
The conclusions on how to ensure stricter compliance were the following:
Product Compliance & Fire Safety are two sides of the same coin.

Need for stronger, stringent market surveillance to ensure compliance with CPR

Lack of knowledge by relevant actors on reporting tools

Compliance & Fire Safety are a common responsibility.

Concrete joint steps are needed: We call on relevant actors in fire safety ecosystem to work together with aim of agreeing on common guidelines/ vademecum to improve fire safety compliance of products in Europe
Downloads & Resources
---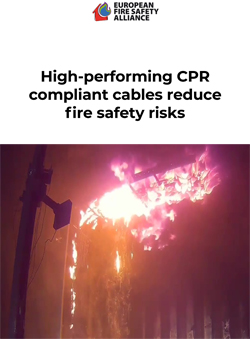 High-performing CPR compliant cables reduce fire safety risks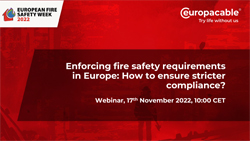 Enforcing fire safety requirements in Europe: How to ensure stricter compliance?
Ing. Joost Ebus, Fire officer and fire investigator, NIPV
"Products compliance and fire safety: two sides of same coin"
Mrs. Yannick Le Tallec, Certification Director, Efectis
"The Notify Bodies perspective"
Mr. Richard Butler, Senior Professional, National Building Control and Market Surveillance Office of the Republic of Ireland
"The National Authorities perspective"
Mrs. Eva Kukovec, Legal Officer, DG GROW – European Commission
"The EU Institutions perspective"
Download the guide and learn more about Performance Classes, Additional Classifications and Product Certification within the CPR framework.