The first ever European Fire Safety Week
---
The aim of the event – hosted by the European Fire Safety Alliance over four days, 18-21 November and dedicated to respectively Community Fire Safety, Fire Safety in Buildings, Electrical Fire Safety and Energy Transition, and Smoke+Furniture Fire Safety – was to share creative, pragmatic and successful initiatives to reduce fire risk in Europe as developed by national authorities, the industry, organizations and other professionals active in the fire safety sector.
Final output
---
To reduce fires in buildings through Europe, the European Fire Safety Alliance will propose, based on the findings of the 2019 European Fire Safety Week, an EU action plan, based on best practices, research and recommendations collected during the event.
This final document will be presented to MEPs and the European Commission at a Fire Safety Future meeting, to be held at the beginning of 2020. Click here to get more information.
Building Fire Safety day
---
This conference aimed at presenting how a holistic approach could improve safety of all European citizens in case of fire in residential buildings.
Topics addressed during the day included the identification of gaps, best practices, compliance to EU legislation and standards and proper enforcement as well as the roles and responsibilities of all actors involved in the value chain for fire safety.
According to this framework, buildings are considered fire safe if the following 7 layers are covered:
Prevention

Detection

Early Suppression

Evacuation

Compartmentation

Structural Safety

Firefighting
Abstract from the Europacable presentation
---
Cables provide an essential contribution to the DETECTION layer (fire alarm cables provide continuity of communication and data transfer during fire), the EVACUATION layer (Low Fire-Hazard cables (LSHF) reduce dramatically smoke and hazardous emissions in case of fire) and FIREFIGHTING (fire resistant cables provide continuity of power and communication to all crucial devices to help rescue teams).
The CPR for cables provides National Regulators a sophisticated tool to select the appropriate performance for every fire hazard. At the present time, National Regulations have been established across Europe specifying CPR Classes between Eca and B2ca. Europe's leading cable manufacturers provide the full range of cables for each required performance. The top performing cables are the Low Fire-Hazard families certified in Classes B2ca and Cca that release limited heat and help to reduce significantly smoke and harmful emissions.
Performance is nothing without surveillance!
Enforcement is key to ensure that compliant cables are used properly. Defining the rules it is not sufficient.
Rules need to be properly applied ⇒ Key the cooperation with Notified Bodies (3rd party laboratories who release test reports and certifications)
Rules need to be known by all relevant actors ⇒ Europacable CPR Awareness campaign
Rules needs to be respected ⇒ Support to Market Surveillance Authorities
Downloads
---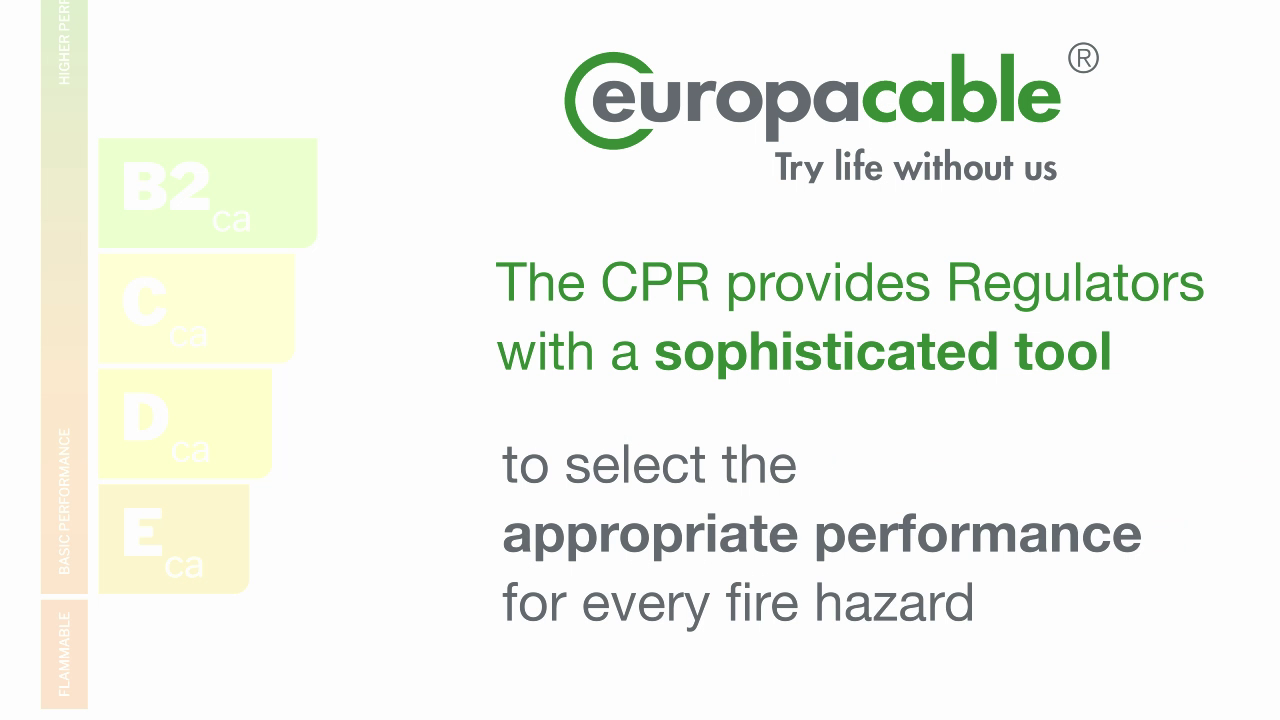 Video
CPR high performance cables saves lives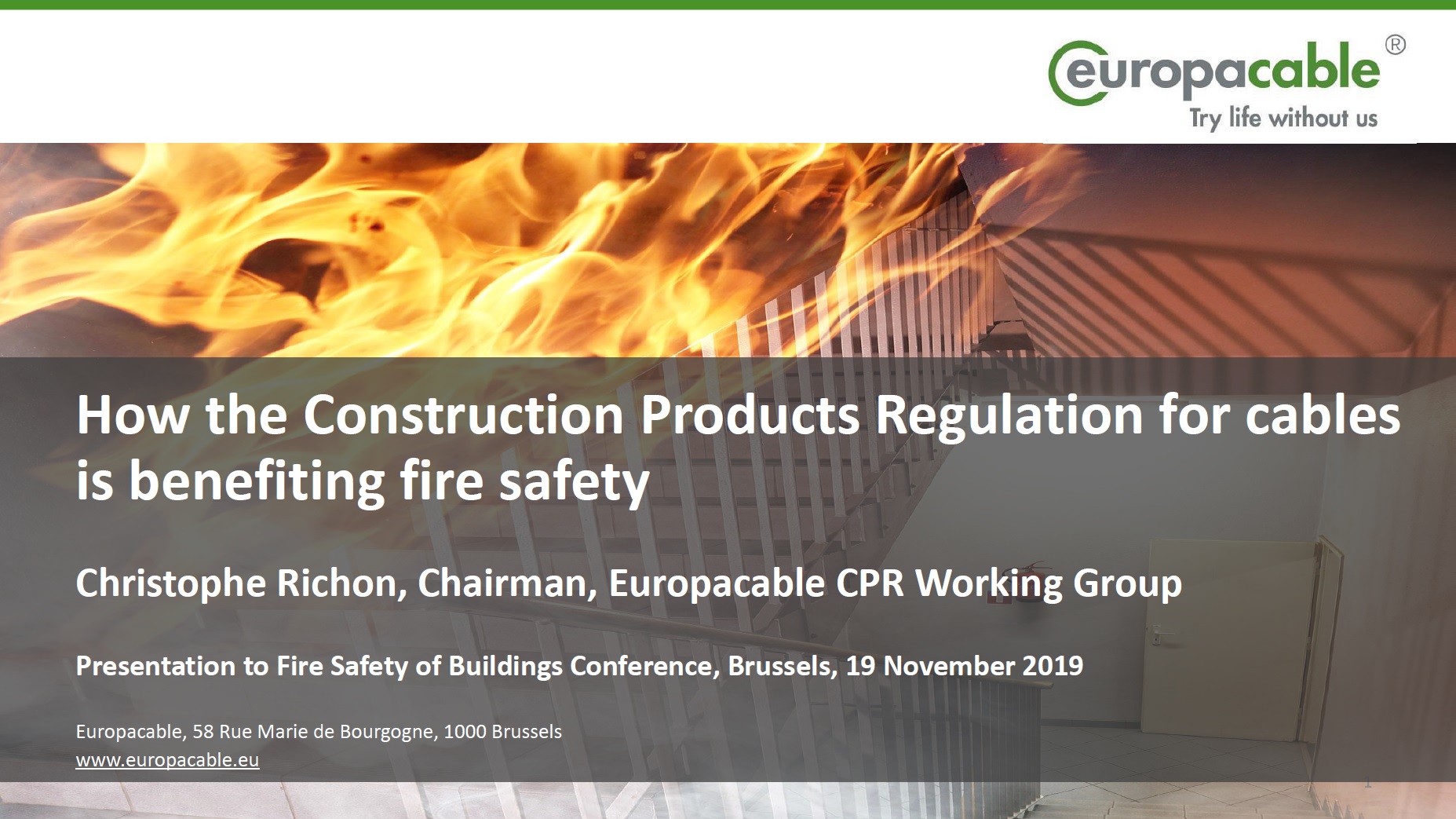 Presentation
How the Construction Products Regulation for cables
is benefiting fire safety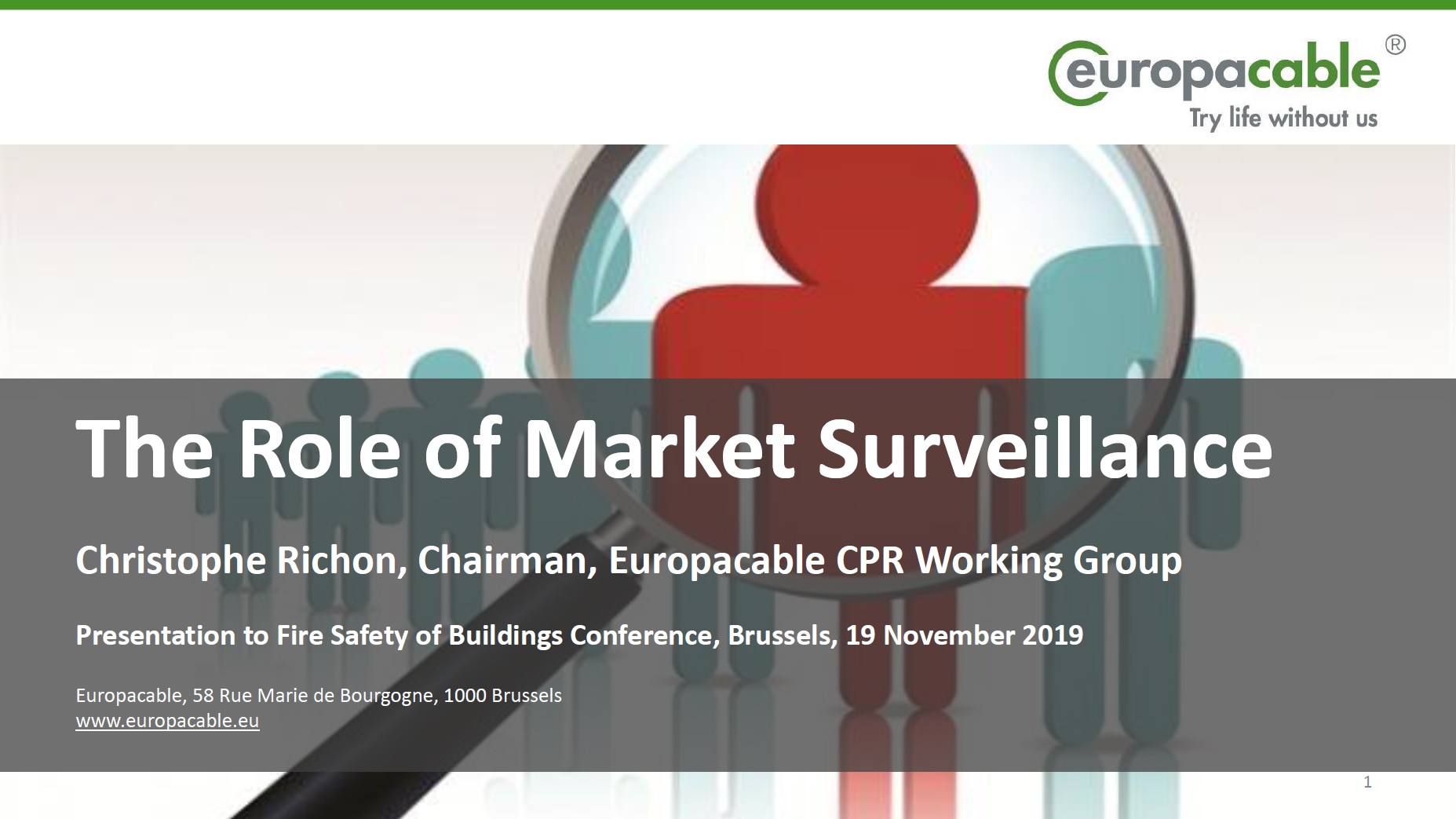 Presentation
The Role of Market Surveillance
Download the guide and learn more about Performance Classes, Additional Classifications and Product Certification within the CPR framework.